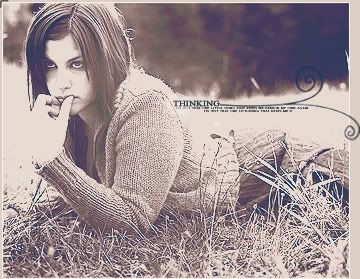 Dear Diary
About
in this blog she's called adorable. she is eighteen years. oh yes, my dear, dirty eighteen. she goes to the senior high school. some people may think to know her so well, but they don't. she's not that pretty nice girl like some people think. sometimes...she can be a real bitch. she wants to be an actress in future. and nothing else. she likes to talk and to laugh. she's a little miss sunshine. and she is a real girly girl. she likes to go shopping all the time. but she also likes to read and write. without music she couldn't live. she hasn't got a boyfriend and acutally she don't need one. but she likes sex. oh yes. sometimes she thinks that relationships are nothing for her. 'cause it just won't work out. at the end her boys are always just for one night. still inside she wants to feel real love. but that's another story. she really needs her friends and her family. they means the world to her. she loves films and travelling. she's a vegetarian. and in the future she wants to live in great britain. in her favourite city london. 'cause inside she's a british girl.
more?
By the Way...
Sämtliche Namen von Personen die hier in meinem Blog erwähnt werden, wurden abgeändert. Einzig allein aus dem Grund, weil dieser Blog anonym bleiben soll und somit auch ich einigermaßen anonym bleiben will. Solltet ihr euch also mit einer hier beschriebenen Person identifizieren können, schließt nicht aus, dass vielleicht genau IHR gemeint seit. Bitte respektiert, dass ich keine wirklichen Namen nennen möchte. Wenn jemand den ich kenne auf diese Seite kommt möchte ich nicht, dass er gleich alles über mich und mein Leben weiß xxx
Loves of the Moment...
book ♥
twilight

movie ♥
into the wild

serie ♥
lost

band ♥
the ting tings

song ♥
supermassive black hole

actor ♥
emile hirsch

actress ♥
sienna miller

label ♥
marc jacobs

parfume ♥
davidoff cool water



Take Me
link me:


Linkage
Coming Soon